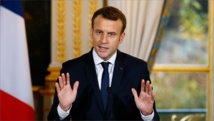 .
Iraqi broadcaster al-Sumaria said the French president would spend "a few hours in Iraq" to meet with officials, but failed to give further details about the trip.
Street protests have roiled Iraq since early October, with demonstrators calling for the resignation of the government, the dissolution of parliament and an overhaul of the country's political system, which has been in place since the 2003 US-led invasion.
The protests prompted then-prime minister Adel Abdel-Mahdi to resign in late November.
Current Iraqi Prime Minister Mustafa al-Kadhimi announced in July that early parliamentary elections will be held in the country in 2021.
The Islamic State extremist group is still active in various parts of the country.