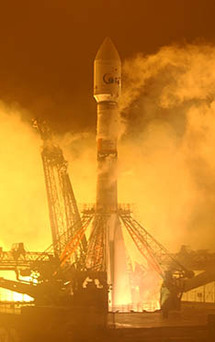 The contract was signed on the sidelines of a visit by French Prime Minister Francois Fillon to Sochi in southern Russia where he met his Russian counterpart Vladimir Putin on Friday.
The new launchers would be used from the second quarter of 2009, said an Arianespace statement.
In April, the European Parliament gave the green light for the deployment of the European Union's Galileo satellite navigation programme, which is seen by space experts as a challenge to the US-administered GPS global positioning system.
To meet European Space Agency requirements for two different launch systems, the organisation's chief executive Jean-Yves Le Gall said Arianespace would use both Ariane 5 and the Russian-developed Soyuz rockets capable of carrying four and two satellites at a time, respectively.
The first four of 30 operational Galileo satellites were due to go into space over the next few years using the Soyuz rocket.