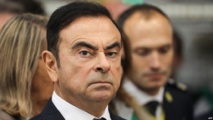 Le Maire said that France, as a shareholder, had a responsibility to ensure that the company's leadership is effective, and that would be up to the courts to decide. He did not say when a case will be brought. The state holds a 15-per-cent stake in Renault.
The announcement comes after Renault said it discovered questionable payments totaling 11 million euros (12.4 million dollars) in a subsidiary in the Netherlands. Its board of directors confirmed Tuesday evening that these included flight expenses for Ghosn.
Legal action against Ghosn is also being considered in the Netherlands.
Ghosn was arrested in Tokyo last November and is currently facing financial misconduct and breach of trust charges.
He was promptly dismissed as chairman of Nissan and Mitsubishi and stepped down from Renault in January. The scandal has rocked Renault's 20-year-old alliance with Nissan.
Renault's board was also to continue talks Wednesday to discuss a merger proposal from Fiat Chrysler Automobiles (FCA). A decision on whether to formally begin merger talks is expected soon.
FCA publicly proposed the 50-50 merger last week. The move would create the world's third-largest carmaker behind Volkswagen and Toyota. Nissan boss Hiroto Saikawa has said a merger would necessitate a "fundamental review" of the Renault parntership.