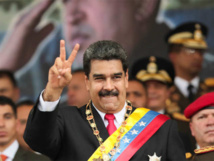 "You don't need to be called Donald Trump to wish for the political demise of Nicolas Maduro. The US president will have his reasons.
However, the reflex to find a positive takeaway from the authoritarian rule of Maduro, the supposed 'socialist,' simply because he is being attacked from the right would be absolutely the wrong approach.
Yes, Maduro must go, and this is easier to say as he undermined the democratic legitimacy on which he claims to rest by all possible means and often violent repression, including stripping the power of the National Assembly.
And it is good that Europeans are clinging to the demand for a fresh democratic beginning, no matter how hard it will be.
The overly-hasty recognition of Guaido by countries including the US and Brazil, however, has the whiff of wanting to restore the country to its more or less pre-Chavez circumstances."