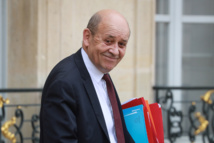 The French official, who is on a two-day visit to Lebanon, separately met with President Michel Aoun, Prime Minister Hassan Diab and House Speaker Nabih Berri.
According to a government source, Le Drian carried a message from French President Emmanuel Macron to his Lebanese counterpart affirming support to Lebanon.
The French official is also due to meet with various Lebanese political and religious leaders.
The main focus of his visit is addressing Lebanon's economic crisis, the worst since the country's civil war ended in 1990, Lebanese media reported.
A government source said Wednesday that Le Drian would push the Lebanese government to implement "urgent reforms" required to alleviate the country's economic problems.
Lebanon has been under pressure from international financing institutions to implement economic reforms and act against corruption.
The Lebanese pound has lost more than 70 per cent of its value against the dollar since October, when demonstrators took to the streets calling for economic reforms and accusing the ruling class of corruption.
In March, Lebanon announced that it would suspend payments of maturing Eurobonds in order to safeguard the foreign currency reserves needed to meet basic imports.