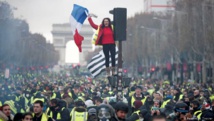 The draft law was discussed at a government meeting in the morning in order to be sent to the parliament by midday, minister and government spokesman Benjamin Griveaux told reporters.
Griveaux said that between 3.8 million and 5 million households would benefit from a 100-euro (113-dollar) monthly raise in state payments to low-paid workers.
Another 3.8 million households would gain some 325 euros annually from the restoration of a tax exemption for pensioners earning less than 2,000 euros monthly.
The law will also cover Macron's pledges to allow employers pay a tax-free end-of-year bonus and to exempt overtime earnings from tax and social charges.
Protesters wearing yellow safety bibs began blocking traffic around the country in mid-November in response to planned fuel tax rises, which have since been cancelled.
They have since grown into a largely leaderless movement with a wider range of demands, including higher wages, tax cuts, and a constitutional amendment to allow voters to initiate referendums on policy issues.
Some of the demonstrations staged by people wearing yellow safety bibs have turned violent in recent weeks, with rioting seen in the capital Paris three weeks running.
Numbers tailed off on Saturday, according to official figures, though it was not clear to what extent that reflected fatigue, acceptance of Macron's offer, bad weather, or simply people's thoughts turning to Christmas.
Griveaux said that Macron's longer-term response to the movement, a national consultation process on a wide range of public policies, should be completed by mid-March.
On issues where the consultation had reached a consensus, the government would aim "at the end of March [or] in mid-April to take very concrete decisions."
But he added that Macron had warned ministers that the "unprecedented" debate was not about "replaying the presidential election of 2017. Nor is it about undoing what the government and parliament have put in place over the last 18 months."