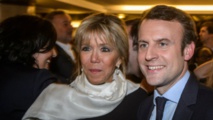 Macron held talks with Crown Prince Mohammed bin Salman, the powerful heir to the Saudi throne, who has recently led an unprecedented crackdown against influential figures in the kingdom.
"During the meeting the latest developments in the Middle East and the efforts exerted for the security and stability of the region, including joint coordination in the fight against terrorism," were discussed, the Saudi Press Agency (SPA) reported.
It added that the French president condemned the firing of a missile by the Yemeni pro-Iranian Houthis at Saudi Arabia on Saturday, and stressed France's solidarity with the Kingdom.
Saudi Arabia said Saturday its air defence forces had intercepted a ballistic missile north-east of Riyadh. The Houthi rebels said they had fired the long-range missile, targeting the King Khaled airport in Riyadh.
Yemen's conflict has intensified since March 2015, when the Houthis first advanced on Aden, prompting Saudi Arabia and Sunni allies to start an air campaign against the Shiite group.
Saudi Arabia fears that the rebels will give its regional rival, Shiite Iran, a strategic foothold on the Arabian Peninsula.
According to SPA, the meeting between the crown prince and the French president was attended by several Saudi officials including the Saudi Foreign Minister Adel Jubeir.
The visit comes after Macron spent two days in Saudi Arabia's Gulf neighbour, the United Arab Emirates.
In August, the French president raised some eyebrows when he accused Saudi Arabia and neighbouring Qatar of financing groups that "have in effect contributed to terrorism."
But Elysee sources say relations between Paris and Riyadh are good, and that Macron has regular phone calls with both the crown prince and King Salman.
Macron's visit comes amid an ongoing dispute between Saudi Arabia, the UAE, Bahrain and Egypt with Qatar. The quartet accuses Qatar of financing terrorism, a charge that Doha denies.
The visit also comes amid increasing tensions in Lebanon and a crackdown inside the oil-rich kingdom led by the crown prince, where more than 200 people - including members of the royal family and influential businessmen - were detained.
Riyadh describes the crackdown as an anti-corruption drive, while observers argue it is a bid by Mohammed to tighten his grip on the country.