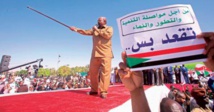 He then returned to Sudan, where he joined the army and was quickly promoted.
In 1989, then a colonel, al-Bashir led a revolt that overthrew Sudan's government. He dissolved parliament, banned political parties and began to restrict media freedom.
Two years later, al-Bashir introduced Sharia, a strict version of Islamic law, across the volatile nation, fostering an existing division between Sudan's Muslim north and its mainly Christian and animist south.
In October 1993, al-Bashir was formally appointed president, but retained military rule.
His presidency had been plagued by violence, conflict and war, especially against the rebels of the southern Sudan People's Liberation Army (SPLA).
Under international pressure, al-Bashir agreed in 2005 to form a peace pact with the SPLA.
Meanwhile, rebel groups of black African descent in Sudan's Darfur region launched an attack on al-Bashir's government in 2003, claiming unfair treatment.
The president enlisted the aid of Arab militia group Janjaweed, which terrorized the region, displacing more than two million people.
Aid organizations were prevented from accessing the region to deliver urgently needed food and medical supplies.
Al-Bashir eventually accepted the entry of a small African Union (AU) peacekeeping mission but did not allow the United Nations to station a larger, international force.
The AU mission was eventually replaced by a joint UN-AU mission in 2008.
A year later, the International Criminal Court (ICC) in The Hague issued an arrest warrant against al-Bashir for crimes against humanity and war crimes. He was later additionally charged with genocide in Darfur.
Sudan's first multiparty elections in more than 20 years in April 2010 saw al-Bashir re-elected with roughly 68 per cent of the vote, despite fraud allegations and election observers saying the poll did not meet international standards.
One of the major challenges that al-Bashir faced was the splitting of Sudan in 2011.
A referendum for southern Sudanese citizens in January 2011 overwhelmingly indicated a preference to separate from the north, a move which took place in July that year.
Al-Bashir had to deal with the economic fallout from the loss of oil fields now located in newly founded South Sudan, as well as conflict with several southern rebel groups.
Opposition groups and citizens increasingly expressed their dissatisfaction with government's inability to improve economic conditions, introduce political reforms and make peace with the rebels.
But al-Bashir always quickly and brutally suffocated dissent.
In 2015, he was once again elected, this time with about 94 per cent of the vote.
Al-Bashir's grip on power only started to loosen in December 2018, when a sharp hike in bread and fuel prices caused a public outcry that led to protests.
In April this year, the protests reached a critical mass when tens of thousands of Sudanese began a multiple-day peaceful sit-in at the army headquarters in Khartoum.
Security forces unsuccessfully tried to break up the protest, despite killing several demonstrators, injuring dozens and making hundreds of arrests.