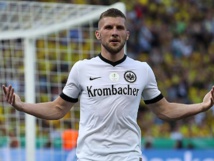 Kazan, Russia -
By Holger Schmidt,
-
For many he was a hopeless case, his name a byword for wasted talent. Yet, in the space of just a few months, Ante Rebic has secured legendary status at Eintracht Frankfurt with two goals in the German Cup final and helped Croatia reach only their second World Cup quarter-final.
It's been a rapid rise and one that doesn't look likely to stop as Rebic gets ready for hosts Russia in Sochi on Saturday. "At the moment, I'm experiencing the best time of my career," the 24-year-old says. "It'll always stay in my memory."
It's an open secret that he'd like a move to Bayern Munich. There, he would be reunited with former Eintracht coach Niko Kovac - a strict yet supportive presence in Rebic's life.
Though Kovac calls Rebic "a good player, who would suit any team," he apparently promised Eintracht that he would take no players with him to Bayern.
Despite that, Rebic's robust performances on the world's biggest stage are bound to attract interest. Eintracht's sporting director Bruno Huebner says that he wants to keep the Croatian, though he knows how unrealistic that is.
"There are still no concrete enquiries, though that's intentional from the interested clubs," Huebner said. "They'll wait till the World Cup is over. Then something will definitely come."
Huebner says that Rebic has no release clause. "But if the situation arises that he is somewhere else after the World Cup, we'll look to get the best result economically."
Many will shake their head should Rebic eventually move to an elite club, with his former coach at RB Leizpig, Achim Beierlorzer, no doubt among them. "Ante is a world-champion trainer," Beierlorzer once said. "Nothing more."
The talented but moody attacker has driven even Kovac to desperation at times. As Croatia manager in 2014, Kovac took Rebic to the World Cup and brought him on as a substitute in each of the team's three games, the last of which saw Rebic earn himself a red card for a petulant foul.
In 2016 Kovac brought Rebic to Eintracht, initially on loan from Fiorentina. Six months later, the coach was bemoaning his defensive play and criticizing him publicly.
"He has to learn, otherwise it will be difficult for him everywhere and he'll always have the same problems," Kovac said.
Eintracht declined to take up an option to buy Rebic from Fiorentina in 2017 but took him back on loan when it was clear that he was out of the first-team picture in Italy.
On his return to Germany the Croatian knuckled down - and Eintracht decided to fork out an estimated 3 million euros (3.5 million dollars) to secure him on a permanent basis.
Now he's worth at least four times that. His cup-final heroics mean that he already has legendary status at Eintracht, even if he leaves - like Lajos Detari, who scored Eintracht's winner in the 1988 cup final before moving to Olympiacos for a bumper transfer fee.
Rebic has carried his cup-final form into the World Cup. After not even making the Croatia squad for more than two years between 2015 and 2017, he found himself in the starting XI in their opening win over Nigeria, in which he played well.
Then he scored the opener in the 3-0 win over Argentina that announced Croatia as contenders. "I got so many phone calls and messages after that I couldn't begin to answer them all," he said.
In Croatia coach Zlatko Dalic, Rebic has found a second father figure. Someone who believes in him. If Rebic's "best time" gets even better, he could soon be moving as a World Cup winner to a very big club indeed.