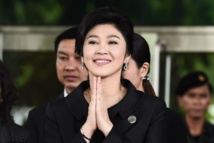 Bangkok -
Fugitive former Thai prime minister Yingluck Shinawatra, who fled the country after being convicted of criminal negligence, is taking refuge in Britain, the Thai military government confirmed Tuesday.
"It has been known [among government officials] since September that she is in the United Kingdom. The British Foreign Secretary told us she is in London," Don Pramudwinai, Thailand's Minister of Foreign Affairs, told reporters.
"We still don't know in which capacity she entered the United Kingdom. She must have used a passport from another country," Don said.
Don's statement came after purported photos of Yingluck in London were circulated on social media. Thai police confirmed last week one of the photos was authentic.
"We have regularly asked Interpol for the confirmation of her location, but none of the member countries have sent us a reply," Pongpol Iamvijarn, deputy police spokesman told dpa Tuesday.
"We have done everything there is to be done in a legal process. Without the confirmation on her location, she cannot be extradited," he added.
There has been speculation in Thailand that authorities do not genuinely want her back to face justice in the country because her popularity could trigger a backlash against the military regime that ousted her in 2014.
In September, one month after she fled Thailand, Yingluck was sentenced in absentia to five years in prison in relation to her administration's failed rice policy that allegedly cost the country 8 billion dollars in public money.