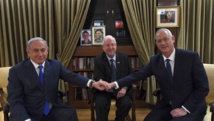 The task is a challenging one, as currently neither Blue and White leader Gantz nor Likud leader Netanyahu have the required majority of at least 61 lawmakers backing them to form a government.
The stalemate follows the September 17 general election - the second in half a year.
Both candidates, as well as President Reuven Rivlin, have called for a unity government which would include both of their parties - but the rivals have different terms for that.
Also calling for a unity government is leader of the right-wing Yisrael Beiteinu party Avigdor Liberman, who has declined to endorse either candidate.
Gantz is set to meet Liberman on Monday and leader of the left-wing Democratic Union Nitzan Horowitz on Tuesday.
The Blue and White party has repeatedly said it will not sit in a government led by Netanyahu while he faces an indictment over corruption charges. The attorney general is expected to announce his decision before the end of the year.
Further complicating the talks, Netanyahu has signed an agreement with the right-wing and ultra-Orthodox parties that back him, committing that they will not enter a coalition without each other.
Gantz's party by contrast had spoken about forming a liberal unity government, which would clash with the interests of the ultra-Orthodox parties.