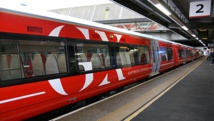 Britain's second-busiest airport has been closed for over 30 hours after multiple drone sightings which began late on Wednesday caused hundreds of flights to be cancelled.
"We are working up contingency plans all the way through to no flights tomorrow," Gatwick's chief operating officer Chris Woodroofe said on Thursday.
He added that he felt "terribly sorry" for the 120,000 passengers whose flights had been disrupted by what he called "this criminal activity."
Military experts joined police units - including snipers and a helicopter on Thursday - in the search for the operators of drones but with no success.