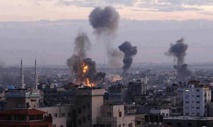 Hundreds of Palestinians were injured in day-time clashes after Friday prayers in Jerusalem, the West Bank and Gaza and two were killed in the strip.
Palestinian militants in Gaza fired rockets towards southern Israel on Friday night, with Israel responding with overnight airstrikes which killed two. The military said it targeted the Islamist Hamas militant group.
The US decision to recognize Jerusalem as the capital of Israel has sparked the unrest. Palestinians see East Jerusalem as their future capital and are demanding the establishment of their own independent state.
Palestinian rocket fire from Gaza, which is ruled largely by Hamas, did not cause injuries in Israel.
Hamas and Israel have fought a number of wars in the past decade. The coastal enclave, under a strict blockade which limits access, suffers from sharp economic decline and humanitarian problems.