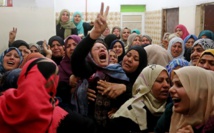 An 18-year-old was fatally shot by Israeli soldiers, the Health Ministry in the Palestinian territory said on Saturday.
His death comes after three Palestinians were killed and about 40 injured the previous evening in the eastern part of the Strip, a densely populated area controlled by the militant Hamas movement.
Israel said that about 9,000 Palestinians had gathered at different points on the border on Friday evening, the latest in the regular protest by Palestinians against the effective blockade of the territory enforced by Israel and Egypt.
They are also demanding that Tel Aviv let Palestinian refugees return to their family homes in Israel.
Some 240 Palestinians have died in the regular confrontations since they broke out in March.
The protesters on Friday set tyres on fire and threw explosives across the border fence, an Israeli military spokesman said.
Hamas, which has controlled the territory since 2007, has been designated as a terrorist organization by the European Union and the United States.