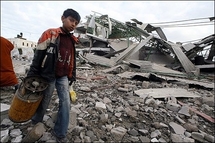 At the United Nations, Western and Arab foreign ministers agreed on a compromise draft resolution calling for an immediate Gaza ceasefire and decided to put it to a Security Council vote, a Palestinian diplomat said. The UN Relief and Works Agency (UNRWA) suspended operations in the enclave after a UN convoy was hit by two Israeli tank shells, killing a truck driver.
UNRWA distributes food to about half of Gaza's 1.5 million people as well as running schools and other centres.
"Operations will remain suspended until Israeli authorities can guarantee the safety and security of our staff," spokesman Christopher Gunness told AFP.
"Two tank shells impacted near a forklift, and one person was killed," Gunness said, adding that the convoy had been coordinated with the Israeli military.
UN Secretary General Ban Ki-moon -- who led protests after Israeli attacks on three UNRWA-run schools in Gaza on Tuesday killed about 50 people -- also condemned the new death.
The incident was one of a series during Operation Cast Lead, launched on December 27 in a bid to end rocket attacks from Gaza.
The International Committee of the Red Cross accused Israel of failing to help the wounded after rescuers found four small children clinging to their dead mothers.
It said Israeli soldiers tried to force rescuers to leave when they reached the grisly scene in Gaza City's Zeitun neighbourhood on Wednesday, four days after safe-passage had been requested.
Israel -- which has blamed Hamas for civilian deaths in Gaza, saying the Islamists use them as human shields -- has said it was investigating the convoy death and the Red Cross incident.
About 250 foreigners, including 48 from Canada, were evacuated from Gaza but the death toll from the war launched on December 27 rose from 700 on Wednesday to 767 as bodies were found during the second daily three-hour suspension of bombing.
About 20 people were killed in new Israeli raids, including a Russian and a Moroccan woman, Gaza medics said. Rescuers also found many bodies in debris in Zeitun and other areas while searching during the respite.
Three soldiers were killed on Thursday, taking Israel's death toll to 11 military and three civilians during the 13 days of the conflict.
Three rockets were fired into northern Israel from Lebanon, injuring two women and sparking a new military alert.
Israeli artillery retaliated and the UN peacekeeping force in southern Lebanon sent reinforcements to the region.Hamas and Hezbollah, which was the target of an Israeli offensive in 2006, denied involvement in the attack.
Israeli leaders gave a restrained response and media cited military sources as saying the rockets were probably fired by Palestinian militants.
Israel launched its offensive in a bid to halt rocket attacks from Gaza and weapons smuggling.
Warplanes staged dozens of raids against tunnels on the Egyptian border which Israel says are used to smuggle weapons to Hamas.
And an Israeli envoy also held talks in Cairo on a ceasefire plan proposed by Egypt's President Hosni Mubarak which would include boosting border security.
Israel's President Shimon Peres told Italian newspaper La Repubblica on Thursday the ceasefire plan was "a general idea" that needed to be hammered out in a process that "could take several days."
Hamas has said it is examining the Egyptian plan.
Israel should be given guarantees that weapons smuggling into Gaza will halt to persuade it to end its offensive, French President Nicolas Sarkozy and German Chancellor Angela Merkel said after talks in Paris.
"The guns must fall silent, the escalation must stop, Israel must obtain security guarantees and leave Gaza as soon as possible. We are ready to undertake a joint initiative to help peace in the Middle East," Sarkozy said.
Merkel said "time is running out. The key is guarantees for Israel's security. Weapons smuggling has to cease."
At the United Nations, Britain, France and the United States presented a new draft Security Council resolution to Arab colleagues.
After protracted discussions Western and Arab foreign ministers agreed on a compromise draft resolution calling for an immediate Gaza ceasefire and decided to put it to a UN Security Council vote.
"There's an agreement accepting the amendments of the Arabs," Ryad Mansour, the Palestinian observer to the UN, told reporters.
New Gaza protests were held on Thursday, with tens of thousands of anti-Israel demonstrators marching through Damascus.
Israeli police shot dead a Palestinian man they said tried to set fire to a petrol station at a Jewish settlement in the occupied West Bank.
------------------------
Image of a Palestinian boy carrying a gas cylinder walking past the rubble of a building destroyed overnight following an Israeli air strike in Rafah in the southern Gaza Strip, by Said Khatib.