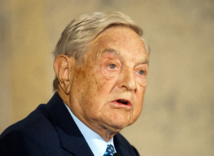 George Soros
Eighty employees and their families made the move from the Hungarian capital to take up work in Berlin, the director of offices of the Open Society Foundations, Goran Buldioski told dpa.
The foundation will eventually employ 150 people, Buldioski said in emailed comments to dpa on Thursday.
"We are delighted that our Berlin office is joining London, New York and Washington DC as a hub office for our foundations," Buldioski said.
Soros - who was born in Hungary in 1930 and later survived the Nazi Holocaust before emigrating to the United States - and his foundation have been the target of harsh criticism from Hungary's strongman Prime Minister Viktor Orban and his right-wing nationalist government.
Without providing any proof, Orban accuses Soros of being behind the wave of refugees to Europe, which his government has refused to accommodate, even going so far as to erect a fence fortified with barbed wire on its borders with Serbia and fellow EU member Croatia.
After Orban and his Fidesz party won a landslide in parliamentary elections on April 8, the attacks on Soros and Open Society increased.
In the summer Budapest passed a law punitively taxing foreign organizations that help refugees, many of which are supported by Open Society.
"[W]e were compelled to move one of our European hub offices out of Hungary as the oppressive political environment made it impossible for us to do our work safely and effectively," Buldioski said.
"We remain a committed donor in Hungary, a country where the democratic values of the European Union are being put to the harshest of tests.
"From these challenges, however, comes the great opportunity we now have to continue and improve our work from our new home in Berlin."
Buldioski said that day-to-day operations should not change at Open Society.
"From Berlin, we will continue to deploy grants and support to civil society in Europe and outside of Europe on a range of issues including democratic practice, the rule of law, respect for human rights, inclusion and digital rights," the native Macedonian who has worked for the Soros foundation for 13 years said.
He said he hoped the Berlin office would develop "its own unique identity within the Open Society family informed by the city and the people in it."
Open Society Foundations is currently working out of a temporary co-working space on Potsdamer Platz before finding a permanent location.
The organization has worked with civil society organizations in Germany for years, and now hopes to expand this, Buldioski said.
On its website, the foundation says its mission is "to build vibrant and tolerant societies whose governments are accountable and open to the participation of all people."
It has an annual budget of 1 billion dollars, according to its own figures.
Notepad