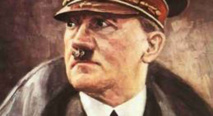 Lars Steinke was suspended as the leader of the AfD's youth wing, Junge Alternative (JA), for the state of Lower Saxony, for writing in a private Facebook post that Claus von Stauffenberg's 1944 assassination bid was "the shameful attempt of a coward" to "save his own hide from the coming victors."
A national arbitration court for the JA found Steinke had damaged the public standing of the youth organization, the JA said Wednesday.
The ruling against Steinke is not yet final. "How long it will hold or whether it is permanent remains to be seen," Steinke said.
Controversial comments made by AfD figures often raise eyebrows in Germany but rarely result in removal from office.
Yet in Steinke's case, even AfD leader Alexander Gauland - who himself landed in hot water in June after calling Nazi rule "just birdshit in more than 1,000 years of successful German history" - rejected the comments.
On July 20, 1944, Nazi military officers close to Claus von Stauffenberg made an abortive attempt on Hitler's life, trying to kill him with a bomb and end the war. Because of the plot, he was executed along with more than 90 others.