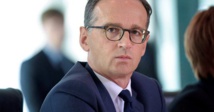 Maas made the comments in a declaration released by the German Foreign Office on Friday, in which he welcomed the development, "which hopefully will lead to concrete results in regard to international concerns about North Korea's nuclear ambitions."
With reference to Germany's past as a "formerly divided country," the declaration said that it hoped the summit would lead to tangible relief for people in North and South Korea.
"The next weeks and months now must show whether a viable, sustainable process can be reached, that finally leads to a peaceful solution to the questions on the Korean Peninsula," Maas said.
Maas added that the international community now expected above all that Pyeongyang "open talks on its nuclear and missile programmes, which are in violation of international law" with the goal of "a comprehensive, transparent and irreversible duclearization."
Germany remained ready to support such a programme, Maas said.