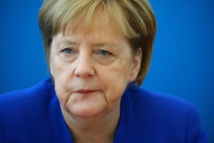 The plan - agreed after hours of emergency talks between Merkel's CDU and Interior Minister Horst Seehofer's Bavarian CSU - foresees transit centres at the German-Austrian border where migrants will be held until they can be deported to the EU country they first registered in.
Seehofer had threatened to resign if Merkel did not agree to turn away some groups of migrants at the border, leading to speculation about a split of the decades-old alliance between their parties, and by extension the break-up of the three-way coalition with the SPD.
The SPD has previously expressed opposition to closed migrant centres at the border, and the coalition agreement struck between the CDU, the CSU and the SPD does not foresee them.
"The SPD issued a clear rejection of closed camps," Kevin Kuehnert, head of the SPD's youth wing, told dpa Tuesday.
"Transit centres are in no way covered by the coalition agreement," Aziz Bozkurt, the SPD's expert on migration, told German newspaper Die Welt, adding that the camps were "above the SPD's pain threshold."
The three coalition partners will meet to discuss the issue at 6 pm (1600 GMT) in Berlin.
Notepad