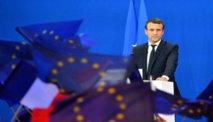 Schulz, who is challenging Chancellor Angela Merkel in September's parliamentary elections, was also due to take part in a discussion on "progressive perspectives for a European relaunch" at the elite Sciences Po college of political science.
Macron was himself received by Merkel in March during his campaign for the French presidency.
He is a strong supporter of European integration and of the Paris-Berlin alliance that is at the heart of the EU's politics, and has met Merkel frequently since his election.
Macron has repeatedly said that France needs to carry out economic reforms and address its budget deficit in order to be a credible partner for Germany.