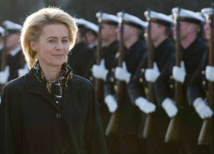 Von der Leyen also referred to the South China Sea, where China is militarizing islands, saying key shipping lanes need to remain open for the sake of both countries' economies.
It is in both China and Germany's interests that the Strait of Malacca, one of the world's most important shipping lanes connecting the South China Sea to the Indian Ocean, "remain freely passable and do not become the source of new power projection and territorial claims," she said in a speech at the PLA National Defence University.
Von der Leyen said conflicts should be solved through compromise and upholding the rule of law, "not the law of the strongest." China claims almost the entirety of the South China Sea, to which the Philippines, Brunei, Malaysia, Taiwan and Vietnam also have overlapping claims.
An international tribunal in 2016 invalidated China's claims to the region, but Beijing does not recognize the ruling.
Von der Leyen met her Chinese counterpart Wei Fenghe, as well as Xu Qiliang, who is vice chairman of the powerful Central Military Commission, and top diplomat Song tao. She also visited a UN peacekeeping training facility.
Xu described Germany as a "good partner."
Von der Leyen said countries can only fight threats such as terrorism and cybercrime by working across borders.
"Walls are hampering growth and prosperity today," she said.