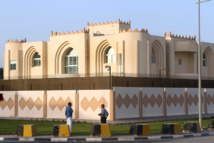 They discussed "various aspects" of finding a peaceful solution to the Afghan conflict, and "efforts of Germany in this regard," the statement by the Taliban's Qatar spokesman Mohammad Sohail Shaheen said.
According to Shaheen, the meeting took place on Saturday. Shaheen stated that Potzel assured the Taliban of "his country's positive role regarding peace."
Potzel also "stressed the need of maintaining regular contact," with the Taliban's Doha office, the statement added.
This is the second time Potzel has met Baradar in Qatar.
The first meeting between the representatives took place on May 1. Both sides discussed finding a peaceful solution to the Afghan conflict, the ongoing talks between the United States and the Taliban and ways of preventing civilian casualties.
Potzel previously served as Berlin's ambassador to Afghanistan from 2014 to 2016.
The meeting came after the US and the Taliban held another round of talks earlier this month in Qatar's capital aimed at finding a political solution to the Afghan conflict and bringing the longest war in US history to an end.
The Taliban have so far refused to talk directly with the Afghan government, whom the militant group deem a "puppet regime."