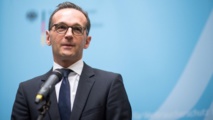 Trump's rejection of the global climate accord and Iran nuclear deal, as well as the tariffs imposed on his country's trading partners, were all unilateral decisions to the detriment of Europe, Maas told the Sueddeutsche Zeitung.
The US president "has consciously accepted that the downsides will have their impact directly on Europe," Maas told the daily.
"We are experiencing a very wide-ranging shift," Maas continued, adding that Trump was turning his back on the multilateral world order and acting unilaterally in US interests.
On Wednesday, German Chancellor Angela Merkel made reference to the upcoming summit in the Bundestag, or lower house, in Berlin, saying: "It doesn't make sense to arbitrarily patch up our differences."
Maas said Trump is following a path that places one country over another. "Nothing in that makes the world better, more secure or more peaceful," he said.
Trump's withdrawal from the Iran nuclear deal should come in for special criticism, he said. "We were accustomed to the fact that we could rely on what had been agreed. That has changed fundamentally," Maas told the Sueddeutsche Zeitung.
Maas reassured, however, that the United States would "remain [Germany's] closest partner outside Europe," but the European Union should make an effort to find new alliances, primarily those that "wish to hold to the multilateral world order."
Maas pointed to Canada, countries in Africa, Latin America and Asia as potential partners.