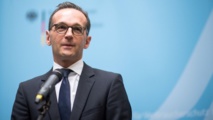 Maas met his counterpart, Pavlo Klimkin, in Kiev for talks on Thursday, before he's due to travel Friday to the front line in the conflict between government forces and pro-Russian rebels that has lasted four years with no end in sight.
Maas said he would like to organize talks in the so-called Normandy format - including Russia, Ukraine, Germany and France - aimed at implementing a peace accord agreed in the Belarusian capital, Minsk, before the German parliament's summer break, which begins July 6.
"I think this is an opportunity to revive ... the stalled Minsk process," Maas said, adding that the talks would also include a debate about whether to send a UN-backed peacekeeping mission to Ukraine.
The last time the foreign ministers from the four countries met on the Ukrainian conflict was in February 2017.
Maas' visit comes on the heels of German President Frank-Walter Steinmeier, who spent two days in Ukraine earlier in the week.
Ukraine's future integration with Europe depends on the country's willingness to conduct comprehensive reforms, particularly against corruption, Steinmeier said on Tuesday.
Transparency and efficiency are the keys to successful reform, Steinmeier said in a speech to hundreds of students at a university in Kiev. The country's policymaking should not be held hostage by the conflict in the eastern regions, Steinmeier added.