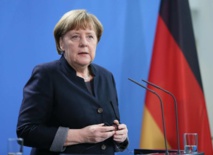 Representatives of Chancellor Angela Merkel's government, made up of the conservative CDU and CSU parties and the centre-left SPD, were set to meet at the chancellery at 2 pm (1200 GMT) for a marathon debate that sources said was likely to last all night.
The parties are still at odds about how best to deploy the money.
Some of the options under consideration are up to 3 million euros per company to subsidize losses; premiums to encourage people to buy cars, thereby supporting the country's all-important car industry; a 300-euro payment per child to support families; additional funding for municipalities as they deal with growing unemployment; and a 28-billion-euro investment in infrastructure projects.
The package would be one of the largest in the country's history. At the height of the financial crisis in 2008, the German government disbursed some 90 billion euros to support the flagging economy.
Once it has been agreed, the package still requires formal approval from Merkel's cabinet, as well as the country's lower and upper houses of parliament, the Bundestag and the Bundesrat.
The German economy is expected to contract by 6.6 per cent this year, the Ifo research institute said late last month. Next year, Europe's largest economy is expected to rebound from its coronavirus-induced crisis to grow by 10.2 per cent.