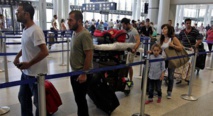 As per German Chancellor Angela Merkel's coalition agreement, any country from which less than 5 per cent of asylum seekers are granted the right to remain in Germany can theoretically qualify as "safe countries of origin."
Tanzania, Ukraine, Pakistan, Benin, Guinea-Bissau, the Central African Republic, Chad, Colombia, Cuba, Vietnam, India, Belarus, Kenya and Moldova are named in the ministry's document, drawn up in response to an information request from an opposition lawmaker.
However, the document also states that in order to comply with EU rules, the German government can only deem a country safe if it is satisfied that migrants will not be under threat of torture, inhumane treatment or death in an armed conflict upon their return.
Merkel's government is under pressure to speed up the deportation of failed asylum seekers as public sentiment turns increasingly against migrants. Tunisia, Algeria, Morocco and Georgia were deemed safe earlier this year.