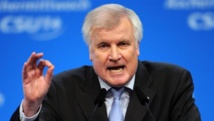 A major showdown on asylum policy between Seehofer and Chancellor Angela Merkel threatened to topple Germany's coalition government this summer.
However, Seehofer said the coalition would now be making important decisions "week by week on pensions, unemployment insurance, rising rents and a skilled workers immigration law."
A compromise deal on immigration was drawn up between Merkel's Christian Democrats (CDU), Seehofer's more conservative Christian Social Union (CSU) and the centre-left Social Democrats (SPD) in July.
However, the SPD has voiced concerns about some aspects of the plan, including the creation of closed centres for migrants. When asked about possible tensions with the SPD, Seehofer said: "The SPD should not unsettle people."
He said his meeting the previous evening with Merkel and Finance Minister Olaf Scholz of the SPD had been businesslike and there had been no disagreements.
He also spoke against the SPD's proposal to give rejected asylum seekers the opportunity to acquire the right to stay as skilled migrants.
On the CSU's chances at upcoming state elections on October 14, he said: "If we are lucky, we will defend our absolute majority." The CSU is under pressure from the far-right Alernative for Germany (AfD) party.