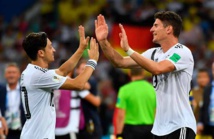 The world champions were on their way out of the tournament for the first time in the opening group stage as they trailed 1-0 to Sweden at half-time.
But a quick reply after the break from Marco Reus and a Kroos masterclass five minutes into stoppage time turned the look of Group F around.
"Thanks Kroos," beamed Bild am Sonntag. "What a finish to the game."
Welt am Sonntag said "Kroos saves Germany" and remarked that the game would have forever been known as the "Shame of Sochi" had he not grabbed the late winner to make it 2-1.
Tagesspiegel excitedly looked ahead, stating that slow starters often grow into a World Cup. The holders lost their opener 1-0 to Mexico but now face South Korea on Wednesday knowing a handsome win should put them through to the last 16.
"Now it starts," the paper said. "Joachim Loew's side now have it in their own hands to reach the first knock-out round."
The Swedish press tried not to be downbeat despite the late loss complicating their hopes of progression after a battling opening win over the Koreans.
They face Mexico on Wednesday and a win would leave Sweden, Mexico and Germany all on six points if Loew's side also prevail.
"The first half was brilliant. Ola Toivonen's goal was magical. Yet here we sit as losers after 95 minutes of play. Toni Kroos'free-kick was beautiful, but right now I suffer with (Sweden's) fighting team," wrote Anders Lindblad, sports columnist in Stockholm daily Svenska Dagbladet.
Tabloid Aftonbladet's sports columnist Simon Bank said: "Germany are best when it really matters.
"(But Sweden are) heroes, whatever they say. The fighting spirit, the morale, the goal, the perspiration, the blood, the tears at the end – a team of heroes, still just a victory from the knock-out stage."