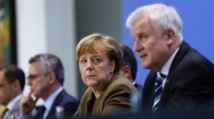 Talks between between Merkel's Christian Democrats (CDU), her allied Christian Social Union (CSU) and the SPD are due to continue at 10 am (0900 GMT) at the SPD's head office.
The parties managed to reach agreement on many areas on Sunday, including housing, rents and digitalization, but were unable to agree on health and labour market policies.
"There are still important topics that have to be settled," Merkel said on Sunday.
Europe's biggest economy has been without a government since September's inconclusive elections - the longest period since modern Germany was founded in 1949.