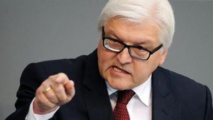 Both countries will next year become members of the council for a two-year term.
"The world will not become more peaceful through an 'everyone against everyone else' approach," but rather through more cooperation," said Steinmeier.
"Unfortunately, not everyone sees it that way today," he added, without mentioning US President Donald Trump or other heads of government.
Steinmeier also spoke about the end of the racist apartheid regime in South Africa in 1990, the same year as Germany's reunification.
South Africa and Germany share the lesson that democracy cannot be taken for granted, is never final and never perfect, the president said.
Germany would therefore like to act as an international partner for human rights, rules-based peace and "against the monster of an aggressive nationalism, which in some places is again showing its claws," Steinmeier said.
"Democracy demands compromises. They are often painful, very painful even: Who would know that better than you here in South Africa?" he added.
Earlier on Monday, Steinmeier lauded South Africa as an important economic partner and a supporter of democracy.
As an emerging economy and country in transition, South Africa was offering "opportunities that we, on the German side, would like to make use of," Steinmeier said earlier in Johannesburg.
Accompanied by a high-ranking business delegation, Steinmeier, whose visit focuses on strengthening ties between the two nations, met in Johannesburg with representatives of the business and civil society sectors.
South Africa is the only country on the continent that belongs to the G20 group of the world's leading industrial and emerging economies.
Steinmeier is scheduled to fly to Cape Town later on Monday.
South Africa is Germany's most important bilateral trading partner in Africa.
On Tuesday, Steinmeier is scheduled to meet South African President Cyril Ramaphosa, who has made the fight against corruption and unemployment his most important tasks since coming to power in February.
Every government around the world is measured by the progress it makes in combating corruption, Steinmeier noted while in Johannesburg.
Ahead of his trip, Steinmeier said that Germany and South Africa have "much to gain" by adopting common positions on challenges such as climate, trade and migration.
He told South African newspaper Sunday Times that young South Africans needed new job prospects, and that Germany wanted to help in this area through investment.
Steinmeier also plans to visit neighbouring Botswana.