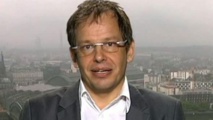 Hajo Seppelt,
Chair Dagmar Freitag named the Russian decision to deny Seppelt a visa for the June 14-July 15 tournament "not only completely unjust but downright scandalous" on Facebook.
Freitag, who is also a member of the foreign affairs committee of the lower house, the Bundestag, told dpa that FIFA and its president Gianni Infantino must take action.
"I am curious how Mister Infantino will react now. After all, FIFA is claiming that it wants to enable journalists to travel to the World Cup," she said.
The ARD network, for which Seppelt works, said Friday that he was denied the visa as persona non grata in Russia. FIFA said that it had accredited Seppelt for the World Cup.
Award-winning Seppelt has been reporting on doping since 2009.
He helped uncovered wide-ranging doping in Russian athletics through whistleblowers which led the ongoing suspension of Russia's athletics federation.
Further reports by him and other media as well as probes by the World Anti-Doping Agency and International Olympic Committee led to the suspension of Russia for the 2018 Winter Games in Pyeongchang. Russia returned into the Olympic family shortly after the Games.