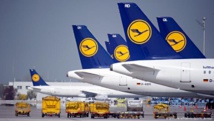 The statement from Ufo was issued after talks with Lufthansa and mediators late Sunday.
Daniel Flohr, the deputy head of the union, said that attempts to resolve the issues in question had failed, and that "from now on, the timing of new strikes could be announced at any time."
The declined to give further details.
Lufthansa was forced to cancel 1,500 flights in November because of the two-day strike that Ufo organized in its push for better pay and benefits for 21,000 staff members.
The union had threatened to extend strikes to Lufthansa's four German subsidiaries - Germanwings, Eurowings Germany, Lufthansa City Line and SunExpress Germany - but subsequently agreed to refrain from further strike action while negotiations were ongoing.
Notepad