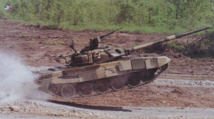 The drop in exports was heaviest to countries that are neither members of the EU or NATO, a market that is a source of controversy in Germany, where fears are growing that German weapons are being used in increasingly violent foreign wars.
Such sales fell by nearly a third, 32.8 per cent.
The information was requested by lawmaker Omid Nouripour of the Green party, and was shared with dpa.
It's the third straight year of decline for German weapons exports. The market last saw growth in 2015, when it recorded record sales of 7.9 billion euros.
The German Security and Defence Industry (BDSV) had already hinted at the decline in December, blaming the "incomprehensible" weapons export policies of the government.
The government has implemented more controls in recent years as it faced criticism for, for example, allowing weapons sales to Saudi Arabia, which stands accused of using excessive violence in its support of the Yemeni government against Houthi rebels.
Germany ended sales to Saudi Arabia last year, amid a controversy about the killing of Saudi journalist Jamal Khashoggi in the kingdom's consulate in Istanbul. The ban extended to weapons deals that had already been approved.
Nonetheless, Saudi Arabia was one of the best customers for Germany's weapons companies in 2018, with Germany's government approving 416 million euros worth of sales to the kingdom.
Algeria and Pakistan were also key customers. According to the data, 52 per cent of sales were to countries outside the EU and NATO. But that figure was at its lowest level since 2011.
Notepad