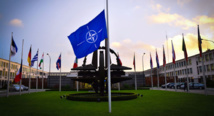 Shortly before the next NATO summit with US President Donald Trump, Germany is to report to the alliance that it will spend 50.25 billion euros (55.6 billion dollars) on defence in 2020, sources in Brussels said.
This is estimated to represent 1.42 per cent of gross domestic product. The target of the NATO member states is a quota of 2 per cent. The most recent forecast for Germany's defence spending in 2019 was 1.36 per cent.
At last year's NATO summit, Trump refused to rule out a withdrawal of the United States from NATO unless all the allies immediately spent 2 per cent of their GDP on defence.
He has long complained of unfair burden-sharing in NATO and has attacked Germany in particular because of its comparatively low spending.
At NATO's headquarters in Brussels, it is hoped that further increases in defence spending by countries such as Germany will help ease the dispute.
NATO had therefore called on all allies to present their new 2020 forecasts before the heads of state and government meet in London in December. The new figures will first be discussed at a meeting of foreign ministers on Wednesday.
The German figure of 50.25 billion euros corresponds to an increase of about 6.2 per cent compared to most recent estimate of 47.32 billion euros for the current year.
In May, expenditure for 2020 was still estimated at less than 50 billion euros. However, Germany's defence ministry had recently stated that it intended to report expenditures of 50.36 billion euros to NATO.
Notepad