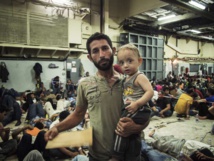 "Currently in Germany the problem is not with high arrival numbers, but instead with the limited number of deportations," said the state's interior minister, Holger Stahlknecht, from Chancellor Angela Merkel's governing Christian Democrats.
Most of the asylum seekers whose applications have been rejected by the state have not yet been deported because the authorities in their countries of origin are not cooperating, she told dpa.
Some 20,122 foreigners were deported from Germany this year until the end of October, 103 more than in the same period last year.
The figures show a similar trend in Saxony-Anhalt, with an increase of 30 to 680 deportations by mid-December.
Stahlknecht said that 70 per cent of these came from uncooperative countries of origin.