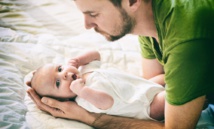 Around 1.9 million men and women received state support for raising a newborn last year, the Federal Statistical Office (Destatis) said. The vast majority of recipients - 1.41 million - were women.
However, fathers could be slowly catching up. While the number of mothers receiving the benefits was up slightly by 0.9 per cent on the year, Destatis reported a 5.3-per-cent increase for male recipients.
Nonetheless, mothers are likely to claim parental benefits for a longer period than fathers. On average, men received support for 3.7 months, while the period for women was 14.3 months.