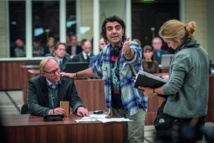 Fatih Akin
"Der Goldene Handschuh" is one of the 17 films competing this year in Berlin for the festival's coveted awards.
The film is drawn from the true story of Fritz Honka, who killed four women in Hamburg's red-light district and then kept their bodies in his apartment. Honka died in 1998.
German actor Jonas Dassler plays Honka in the film, which is based on a 2016 crime novel by Hamburg-born author Heinz Strunk.
A stooped figure with a squint and speech impediment, Honka preyed on the women in a local pub called Zum Goldenen Handschuh (The Golden Glove), which was home to prostitutes and lonely, down-at-heel drinkers in the northern German port city.
"He was a monster, a serial killer but he was also searching for normality in his life," 23-year-old Dassler told a press conference marking the film's world premiere in Berlin.
The 45-year-old Akin also said that he was impressed by the way that Strunk portrayed Honka with a sense of dignity that helped to give him a human face, despite his crimes.
Akin acknowledged that the victims also had a sense dignity, with one of Honka's victims - a concentration camp survivor - rigorously fighting to counter his attack. The movie showed "a will to live," said Akin.
Apart from creating a portrait of a man driven by misogyny and his own sexual inadequacies, Akin also sought to show the other side of Germany's "economic miracle" with many still trying to regain a sense of balance in the country's post-Second World War era.
Akin's film is the second German movie to so far screen in the Berlinale's main competition, which opened on Thursday.
Nora Fingscheidt has won praise from festivalgoers for "System Crasher," about an aggressive 9-year-old girl placed in protective services by her mother after she rebels against authority.
The nature of family is one of the themes running through this year's Berlinale.
Paris-born director Francois Ozon's hard-hitting portrayal of the corrosive impact that sex abuse by priest has on the lives of the children affected also delves into the wider aspects of French family life and society, and the power wielded by the Catholic Church.
Over the course of 137 minutes, Ozon shows in his film "Grace a Dieu" ("By the Grace of God") a group of middle-aged men still struggling with despair, humiliation and fury, years after they had fallen prey to a paedophile priest.
Set in Lyon – a stronghold of the Catholic Church - Ozon's film draws on the true case of Father Bernard Preynat, who in 2016 was charged with sexually assaulting around 70 boys in the southern French city.
"I wanted to make a film about men ... expressing their emotions," Ozon told a Berlinale press conference. He also hoped to show "the knock-on effects [the abuse] has had on their families and lives."
In the film, Ozon also attacks the church over its silence on abusive priests and its attempts to cover up the scandal.
But underlining the sensitivity of Ozon's film, some of its critics are already attempting to have it banned in France.