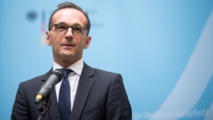 Maas
"We all know what's at stake," said German Foreign Minister Heiko Maas in an interview with dpa ahead of his meeting with Russia's Sergei Lavrov in Berlin.
"This is about preventing the worst, namely a new humanitarian catastrophe."
The United Nations is bracing for a mass movement of 900,000 people who are expected to flee if the government launches a large-scale offensive in Syria's last rebel-held region, home to about 3 million.
Russia has been the major benefactor of Syria amid its civil war, which began in 2011. In recent weeks, the government has concentrated troops in the north-west, with the intent of unseating 10,000 extremist fighters who have concentrated in Idlib.
"Russia plays a key role and we have the expectations of them," Maas said. "We're going to discuss this very openly with one another."
Germany has not played a major role in the Syria conflict, but Russia is leaning on it and other Western powers to free up funding for the rebuilding of Syria. As such, that could give European countries some leverage.
"If there's a political solution that leads to free elections ultimately, then we are ready to take responsibility for the reconstruction," Maas said.
"Neither the Russians, nor the Iranians nor the Turks will be able to do that on their own," he said, referring to some of the other major players in the conflict.
However, he said Germany would not set the removal of Syrian President Bashar al-Assad - who is widely blamed for allowing protests against his rule in 2011 to turn into a full-blown civil war - as a condition for his participation.
Before departing for Berlin on Thursday, Lavrov criticized Germany for not being willing to fully commit to the reconstruction programme.
Maas fired back that there was no sense in Germany committing to reconstruction programmes if refugees could not return to Syria for fear of persecution.