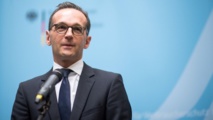 "They will have to decide what they want by October," Heiko Maas told the Financial Times in an interview published on Tuesday. "You cannot drag out Brexit for a decade."
He also cautioned British leaders that an appeal for a further Brexit delay would be read as a plea to remain in the EU: "Another extension could send the signal that they plan to stay in the EU after all."
Last week, the remaining 27 EU states agreed to grant the British government an extension on its exit from the EU until the end of October.
An earlier Brexit is possible, however, if the divided British parliament agrees on a compromise on future relations with the EU.
German Chancellor Angela Merkel, like the majority of EU heads of state and government, was in favour of a long delay of nine to 12 months, but French President Emmanuel Macron wanted a shorter period and demanded strict conditions for the British.
The German foreign minister stressed that he had not given up hope that the British parliament would back Prime Minister Theresa May's draft withdrawal agreement before the European elections next month, pointing to the apparent absurdity of Britain's predicament.
"Just think about it: You say you want to leave Europe and then you hold a European Parliament election," he said.