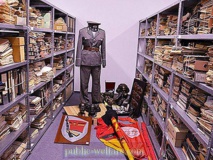 The GDR, a satelitte state of the Soviet Union, subjected its citizens to mass surveillance carried out by the State Security Service, commonly known as the Stasi. Dissidents of the communist regime faced intimidation, persecution and imprisonment.
Today, people can look up the records that were kept on them by the Stasi.
Legislation creating the new post is to be brought before the German parliament after its summer break, said Katrin Budde, who chairs the parliamentary culture committee.
She added that the coalition government of Chancellor Angela Merkel's conservatives and Budde's Social Democrats (SPD) support the move, which also has the backing of victim support groups and officials tasked with addressing GDR crimes in the states that make up Germany's former East.
Two other bills are also planned, amending laws on the indexing and management of Stasi documents as well as on federal archiving practices.
Budde has October 3 in mind for the Bundestag parliament to pass the legislation, which is German Unity Day, and this year marks 30 years since the country was reunified after the end of the Cold War.
Notepad