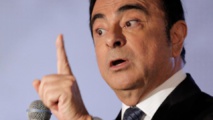 Nissan said in a statement that the carmaker's board voted unanimously to discharge Ghosn, who also serves as chairman of Renault and Mitsubishi Motors.
Japan's second-largest carmaker will nominate a new chairman from the current board of directors, it said.
Nissan also added: "The board acknowledged the significance of the matter and confirmed that the long-standing Alliance partnership with Renault remains unchanged."
Nissan's board of directors also voted to dismiss representative director Greg Kelly, who allegedly collaborated with Ghosn.
Mitsubishi Motors, where Ghosn also serves as chairman, is expected to follow suit next week.
In Paris, French Economy Minister Bruno Le Maire is set to meet his Japanese counterpart Hiroshige Seko for talks later in the day on the future of the alliance between the three carmakers.
On Monday, Tokyo prosecutors arrested Ghosn for allegedly under-reporting his salary by 5 billion yen (44 million dollars) over five years from 2011.
An internal investigation by Nissan concluded that Ghosn had fabricated his pay package for years, it said on Monday.
Ghosn's "numerous other significant acts of misconduct have been uncovered, such as personal use of company assets," the carmaker said.
The Tokyo District Court on Wednesday approved a request from prosecutors to hold Ghosn and Kelly for 10 days, local media reported.
The Brazilian-French-Lebanese business leader spearheaded a remarkable turnaround at Nissan about two decades ago, helping rescue the carmaker from near bankruptcy under a capital alliance with Renault.
Known as an aggressive cost-cutter, Ghosn became Nissan's chief operating officer in 1999 and later served as chief executive of the Japanese carmaker from 2001 to 2017, when Hiroto Saikawa took over the role.