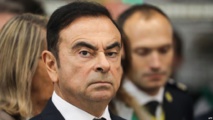 The move comes a day after the court turned down their request to repeal an earlier denial of bail.
Ghosn, who was sent by Renault to lead a turnaround at Nissan after its near-bankruptcy in 1999, has been held at the Tokyo Detention Centre for nearly two months.
On November 19, Tokyo prosecutors arrested Ghosn for alleged financial misconduct at the Japanese carmaker and his right-hand man Greg Kelly on suspicion of collaborating with him.
The prosecutors indicted Ghosn, Kelly and Nissan in December over an alleged understating of Ghosn's pay package by 5 billion yen (44 million dollars) from 2011 to 2015.
A week ago, Ghosn, Kelly and the Japanese carmaker were indicted once again for falsifying Ghosn's income in the three years through March 2018, while the former chairman was also charged with a breach of trust.
In his first public appearance at a Tokyo court hearing on January 8, Ghosn said: "I have been wrongly accused and unfairly detained based on meritless and unsubstantiated accusations."
Mitsubishi Motors said on Friday that Ghosn, who also served as chairman for the carmaker, had received 7.8 million euros (9.1 million dollars) from an overseas unit jointly set up with Nissan.
Ghosn "illegally received" the money from the unit between April 2018 and November 2018, an internal investigation conducted by the two carmakers showed.
Mitsubishi "will further investigate the cause and consider action to pursue liability against Mr Ghosn in collaboration with Nissan," it added.
Ghosn became Mitsubishi Motors chairman in October 2016 after the carmaker joined Renault-Nissan alliance following its data falsification scandal.
Nissan and Mitsubishi Motors dismissed Ghosn as chairman at board meetings soon after his arrest.