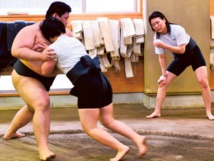 At least five girls were supposed to attend the sumo event in the central city of Shizuoka on Sunday, but the association abruptly declined their participation last week, the Tokyo Shimbun newspaper reported.
At an event called "Kids Sumo," professional sumo wrestlers perform exercises with children in the ring called dohyo. Girls had been allowed to take part in Shizuoka for the past three years.
The association's director in charge of a sumo performance tour notified its members not to let females enter the ring "regardless of age," its officials were quoted by the paper as saying.
The ring is considered sacred in the ancient sport.
Last week, a sumo referee ordered women to leave the ring in the western city of Maizuru when they rushed to provide emergency medical treatment for the city's mayor who suddenly collapsed there.
The incident sparked an international uproar and led Sumo Association chairman Nobuyoshi Hakkaku to apologize for the referee's "inappropriate" instructions.