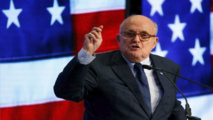 The president's lawyer portrayed the aborted trip as an innocent effort to push for an honest investigation into various alleged deals in the country that played a key role in special counsel
Robert Mueller's
Russia
collusion investigation.
"I was walking into a lion's den and (sources) told me I had to be very careful," Giuliani told
The New York Daily News
, citing unnamed people with "a great deal of knowledge."
The former [New York] mayor originally admitted that the journey was an effort to push a convoluted investigation involving the son of the Democratic frontrunner.
But Saturday, he told the
Daily News
that he only planned to meet with
Ukraine's
newly-elected President
Volodymyr Zelensky
. He claimed he canned the trip because Zelensky was under the thumb of Trump-haters.
"Right now (Zelensky) is in the hands of people who supported Hillary and hate Trump," he said.
Giuliani's ham-handed about-face ended a mini-furor over the planned trip that was first revealed Thursday.
Giuliani had said he planned to urge officials to reopen a probe into business payments made to
Joe Biden's
son, Hunter, by a Ukrainian oligarch. He also wanted to prod them to find out if
Joe Biden
pushed
Ukraine
to scrap an investigation into
Burisma Holdings
, a natural gas company linked to
Hunter Biden
.
Democrats
were quick to lash out over Giuliani's plans to travel to
Ukraine
and his political intentions.
"The president is openly asking a foreign government to investigate his political rival," Senator
Chris Murphy
, D-
Conn
ecticut, tweeted Friday. "This is next level."
Giuliani was quick to fire back, tweeting, "Explain to me why Biden shouldn't be investigated."
But Giuliani shifted gears as criticism mounted, including from some
Republicans
. By Friday night he decided to cancel the trip.
He scoffed Saturday at reports that congressional
Democrats
want to investigate the aborted trip.
"Of course they want another investigation," he told the
Daily News
. "I'll be the 84th investigation."