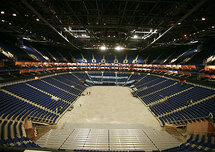 "Matter" will bring traditional DJ based club nights to the former Millennium Dome, and will also host gigs from leading names in indie and pop.
The venue is the brainchild of Keith Reilly and Cameron Leslie, who are best known for the creation of one of London's most famous existing nightclubs, "Fabric."
Friday's official launch promised a taste of things to come with diverse performances from electro DJ James Lavelle, indie heavyweight Ian Brown, ex-Cult singer Ian Astbury and Californian rockers Iglu and Hartley.
Leslie outlined the club's vision before its launch.
"To set it straight, it's more of a music venue than a club. We're trying to build a much more versatile space that's able to do not only club nights but live music events and different music shows," he told AFP.
Renowned architect William Russell was asked to design the venue which boasts state of the art innovations including the vibrating "BodyKinetic" dance floor and a radical 3D audio, visual and lighting system.
"Keith and myself were both massive fans of William Russell, he was our only choice.
"It's minimal and very brutal in parts but the use of light can suddenly warm it up and make it very clean and sharp," explained Leslie.
The Dome was beset with problems when it opened in 2000, but has seen a recent upturn in fortunes with the creation of a 20,000 capacity live music venue and several bars, restaurants and exhibition spaces.
Leslie admitted that he was sceptical about the venue at first.
"I wouldn't say we were exactly running to come down here to have a look at the Millennium Dome," he said.
"It was just of no interest to us at all but once we actually came down and met the guys, we got on with them really well and were quite overawed by what they were trying to do."
London's clubbers are reeling from the closure of three of the capital's best known venues, "Turnmills", "The Key" and "The End" within a year.
Leslie refuses to accept this as a bad omen.
"That's to do with property, that's nothing to do with a downturn in the clubbing market," he said.
"It's just a freak moment in time that within a year you're going to have three of London's most famous venues closing down."
Leslie was also upbeat about the current financial panic sweeping the world. "We're not asking people to put down payments on houses. It's just the cost of a few drinks and a bit of transport. It's a reason for people in these times to actually enjoy something in their lives," he said.
Despite numerous offers to sell the brand of Fabric around the world, the duo have refused to franchise the club. Leslie assured that they would apply the same ethos with Matter.
"There's absolutely no business plan or global brand development strategy. Brighton, Leeds, Tokyo, Buenos Aires, we don't know them.
"It took us nine years to do anything outside of Fabric and I think that's a statement of intent of how much we want to concentrate on the venue," he added.