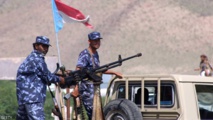 The clashes pitted government forces against loyalists of the self-styled Southern Transitional Council (STC), which seeks independence for southern Yemen from the north, a local council official said.
Tensions have grown since April, when the STC unilaterally announced self-rule in areas under its control in war-devastated Yemen. Friday's fighting is the latest outburst.
"Clashes erupted after the STC forces dispatched large military reinforcements to Hadiboh, the capital city of Socotra, in an attempt to seize it," the official told dpa on condition of anonymity.
He added that the STC insurgents took control of the Socotra security directorate in the western section of Hadiboh.
Yemeni Minister of Fisheries Fahd Kafayen, meanwhile, accused the STC loyalists of bombarding Hadiboh.
"Shelling the city is unacceptable and condemnable. The Transition [Council] has to stop these irresponsible acts," he added in a press statement. No casualty figures were given.
So far, there has been no comment from the government or the STC.
Socotra, which got UNESCO status due to its rich biodiversity, has been the target of repeated STC attempts to take control.
The internationally recognized government previously accused the United Arab Emirates of supporting the STC in its push for independence, a charge that the UAE has denied.
Yemen's south was an independent state until the 1990 unification with the north.
The UAE is a major partner in a Saudi-led military alliance that is fighting Iran-allied rebels in Yemen.