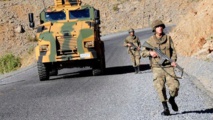 A home-made bomb went off when a vehicle carrying the five was passing in Diyarbakir's Kulp district, the governor said.
The armed forces started an operation to capture the culprits, the governor said, without giving further details.
The PKK is considered a terrorist organization by Turkey, the European Union and the United States.
A ceasefire between the group and the Turkish government collapsed in 2015. Several have been killed in the ensuing battle.