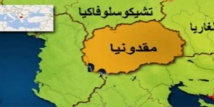 Foreign Ministers Nikos Kotzias of Greece and Nikola Dimitrov of Macedonia signed the document in Psarades, on the shore of Lake Prespa, which is divided between the two countries and Albania.
"This is a historic step," Greek Prime Minister Alexis Tsipras said at the ceremony in comments carried by local broadcasters. "Our countries are leaving the past behind and are looking to the future."
"What a beautiful, glorious and historic day," his Macedonian counterpart Zoran Zaev said before the signing.
Greece and Macedonia have been at odds over the latter's name since Macedonia emerged from the disintegrating former Yugoslavia in 1991. Negotiations took place under UN auspices beginning in 1995.
Greece insisted that the name Macedonia belongs to its northern province and accused Skopje of usurping Hellenic history and even territorial aspirations. Athens allowed the country to join the United Nations only with the provisional name of Former Yugoslav Republic of Macedonia.
Under the new deal - announced on Tuesday by Tsipras and Zaev - Greece allowed its neighbour to retain the key part of its name, but with a geographic qualifier: After a complex procedure, which will take months, the country will become the Republic of Northern Macedonia.
Greece will also immediately lift its veto on an invitation for Macedonia to join NATO and also allow the European Union to open membership talks with Skopje.
The UN envoy who mediated the talks for 23 years, Matthew Nimetz, was joined by EU chief diplomat Federica Mogherini and Enlargement Commissioner Johannes Hahn at the signing ceremony.
Hahn tweeted that the agreement would "contribute to peace and stability and hopefully to tangible progress for the EU perspective" of Macedonia.
A day earlier, Tsipras survived a no-confidence motion the opposition launched over the name deal, and Zaev will have to push aside the veto on the ratification by President Gjorge Ivanov.
Macedonia now needs to ratify the deal in the parliament and confirm it with a referendum, presumably in September, and cement the name change into its constitution. Only after that will Greece also ratify it, as well Macedonia's membership in NATO.
The agreement enraged nationalists in both countries, who feel that their side has conceded too much. Conservative Macedonian President Gorge Ivanov has promised to veto the agreement even if parliament ratifies it. A second vote from parliament would allow the vetoed motion to become law.
Greeks opposing the deal protested in Athens on Friday and Saturday, while the Macedonian nationalists scheduled a rally against it in the south-western city of Bitola.