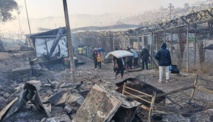 Some have repeatedly set fire to the remaining parts of the camp and the surrounding fields as well as attacked police at the site.
EU leaders have announced plans to take in unaccompanied minors, 400 of whom are now on the Greek mainland, but adults have been told repeatedly by Greek authorities that they will not be allowed to leave the island because of the fire.
Greece is said to have pleaded for more refugees to be taken in beyond the 400 minors, fearing that migrants might otherwise commit acts of sabotage at other accommodation facilities.
Germany and France are planning to take in minors affected by the fire and have called on other countries in the EU to help.
Italy promised its support for the initiative, though Italian Prime Minister Giuseppe Conte left open whether his country wanted to concretely help with the admission of migrants.
The Finnish government said on Friday that it would take in 11 unaccompanied minors from the camp. The group was included in a 175-strong quota for specially vulnerable groups the Finnish government created earlier this year. So far, 72 people have been transferred from Greece to Finland, the government said.
The beefed-up police presence is also in response to the island inhabitants, who have begun to grow more outraged over the situation.
Many of them, including nearly all the mayors, say they want no more refugees on their island after the fire. "They all have to go. No camp on Lesbos anymore," said Kostas Moutzouris, governor of the North Aegean region, on television.
They also expressed disappointment with the European Union.
Fears of a coronavirus virus outbreak are also widespread on Lesbos. So far, 35 migrants have tested positive. After the fire, police were only able to locate eight of them, according to official reports.
Inhabitants are also blocking access roads to places where the government is trying to set up provisional camps to temporarily shelter the homeless migrants.