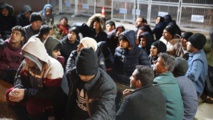 "We want to see whether it can be implemented and whether it can work," he told the broadcaster Skai on Thursday.
The government published a tender for the project a day earlier.
Greek newspapers compare the possible barrier to what is already in use to stop oil spillages from spreading and report that experts have voiced doubts that it will prevent people from reaching shore.
Greece has struggled to accommodate tens of thousands of migrants stranded on the Aegean islands. The situation rapidly worsened with a spike in arrivals since April.
Since it took over in July, conservative Prime Minister Kyriakos Mitsotakis' government has forged plans to ease the burden by transferring true refugees to the mainland, curb the overall inflow, and accelerate the deportation of those whose denied asylum.
This week the government announced that it will deploy an additional 1,200 border police to the land frontier with Turkey and on the islands. Greece has been deporting more migrants back to Turkey - around 30 daily - under a 2016 EU agreement with Ankara.